2010-03-11
AGE of Stupid - a SEQUEL CHAIN request :)
a letter to Franny Armstrong & friends
Originally this article was meant to be an official "sequel-request" :) But since Age of Stupid is not only a movie the sequel can't be only that either - nor the sequel-request :)
Have you
ever pondered upon how revolutionary Age of Stupid "was" ? I mean the film, and all the surrounding activities and alliances and networkings ? It kicked off tons of chains of chain-reactions! Could you possibly mention anything being as or even close to this BIG ? Could you possibly think of anything being so organic as "Age of Stupid" - the "movement" was ? (actually "movement" could be replaced for "motion" or at least we can say AoS redefined "movement")
So, what next ?
In short: Age of Stupid probably should get into second gear (it'd be stupid not to :))
Franny Armstrong & AoS started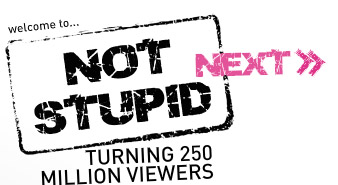 something so big and so organic - something that really has such a great influence (yet the greatest ever) on how we think about climate change and future of our planet. Let this be the start of a new age, a starting point, an initiative, from which the rest of changes might unfold.
In movie world the next logical step would be a SEQUEL :) In movement world however the next step could be a next level. Thinking of how exhausting years it costed Franny to get this movie moving the Sequel doesn't seem as such a viable idea :) Also, the point is not that Franny makes movies - but that Franny Armstrong gets the world make moves.
So, how about a SEQUEL?
That is made by many? How about organizing countries to get "some" films made? Some films that could be watched globally same time this year?
A country could delegate many films, among which there would be 1 official film (of whatever length), and as many other as they wish. Also there would be one official PIECE, of a sort of certain length (being over 3 minutes but under 12 so that it wouldn't be like watching commercials), and from these pieces a global delegate film could be edited up - which my be in focus of attention of television channels globally :)
So there could be some 15-50 countries getting their people organized - making so like 15-50 times 15-50 films.
These will all have subtitle versions in several languages.
:::note: These films (selected by Age of Stupid joints) would promise to maximize the fee that they'd ever charge for a television channel, and also to give a percentage to the organisation (like 10-25 percent - make it 25 or even 35:)).
There could be "packages", selections (like linux distros:)), circulating on DVD-s,
and there could be a small network of web-servers from where the HD versions could be downloaded - for local screenings.
All in all: there could be a festival every year - a global one! Screenings, demonstrations, conferences (these will be conferences on our own!!), music, thoughts, people & mixing.
This festival can end with a film-award event - that can be as huge as the Oscars now.
Film, independent film can start growing! And film in this sense means something that doesn't serve as dozes of entertainment, killing time, but instead getting people think and change and move.
For everything starts at thoughts and thinking, seeing the world differently.
PS: and in case you wonder how on Earth someone could enjoy watching all these environmental, climate change movies, like tons of them ...
Well, every country will create a map, like a site-map in web-terms. This will mean placing the given films in a database in a complex & sophisticated way.
Imagine adding tags to a film (even if it's only 12 minutes long). Tags about its theme, and connections - which films, which things, which happenings its connected to. So basically a very sophisticated structure of information can be created, and viewers will have a chance to navigate really easily thru and among these films, like they are navigating in a city - using a map & a book like where to drink beer in Prague :)
Okay, this is it in short ...
what do You think ?
-jepe-