2008-05-19
Indy of the third kind
stay on the scene - like a money machine
We're supposed to have been really excited to get to see the brand new Indy episode, and now that the start-gun's been fired we can rush at the nearest box office to get ourselves fixed - cause this is not just another one of the series but a very special one, it's like Alien VS. Predator, two movie-empires, the Lucas and the Spielberg factories joined up for this production in which good old Indy meets Encounters of the Third Kind.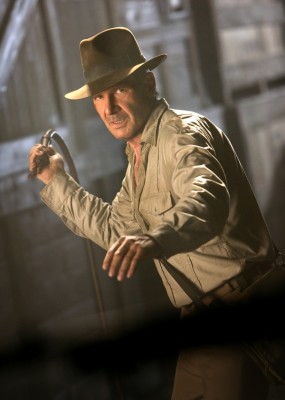 Cinema is not one thing (of course, even mentioning this C-word will tell anyone that this article won't be too much of a pleasing one). Cinema is just an invention - a form of showing stuff for an audience but this stuff can be just about anything from the locomotives through shark jaws (the common spectacles), or could be stories - funny or sad ones - and even could be stories (literal or visual ones) that represent artistic value, yes cinema can be art too. As for the Indiana Jones sequel it's of the amusement kind showing spectacles only - and we all know it. That's why it's sort of confusing (if not embarrassing) to see this movie in Cannes as an opening picture. Cannes is about art, right? Or just not any more - meaning that the leading news from Cannes this year has been that Pitt and Jolie are pregnant with twins (fraternal ones)?
The newest Indy epic seems to be playing with Harrison Ford's being or not being old. It's a weird proposal since we know Harrison Ford, we respect him for his talent and all the great artistic work he's done so far, we respect him for his age too and for his looking great too. So the truth is that we're not interested in Mr. Ford's age or physical conditions at all but we do understand why producers of the movie has put this question in the foreground - I mean this movie is a spectacle, something that you're supposed to be curious to see and seeing Mr. Ford once again as Indy could do all the necessary attraction. Beyond this fabricated age-conflict however there lies the real one: how strange could it be to see a new Indy episode? Yes, this is the real question - and it's even a very tricky one since only you can answer this for yourself (after buying a ticket).
You're supposed to already have grown up watching the Indy series. You're supposed to already have seen it several times in theatre, couple of times on TV and countless number of occasions from DVD that you have bought too. You're supposed to have had all the conversations already about this series, have read all the articles - I mean let's get to our senses: Indy is just past.
Yeah, we have seen the Star Wars revitalized, resurrected - sow it to find out only a bit later that it's just not right. When little Portman girl talks about her first sexual experience with the future Darth Vader you'd just realize that it just ain't down. Yes, the show must go on - says the industry. But for us, humans it's an ugly scene to see our favorites, our classics rolling on like animated zombies. Stories (weather or not they're as great as the Gladiator or just amusing as the Indy movies) have a way to be digested by humans: after you have seen them a couple of times you won't be needing to see them again, when you have seen them another bunch of times from the DVDs that you have bought they are supposed to live on on your shelves and in your memories or imaginations - and one thing is for sure, after a time industry can't have more money from you for the same movie (just think of the fact that Ridley Scott is already thinking of resurrecting Russell Crow as the Gladiator).
These new turns, these resurrections will just never be the same - just like Goldie Hawn and Meryl Streep in Zemeckis' Death Becomes Her. And beyond that they just kill the story that you liked. It's like developing a picture, a photograph and overdoing the process so that it will just burn out and cease to be discernible at all. How can someone do this to a story? And how can they do it to those who like those stories and even payed for it several times? I mean imagine Coppola doing Godfather - the new generation, starting the whole thing over. Imagine David Lynch do Blue Velvet - the revenge, and Spielberg start a new Columbo series while great Robert Altman's son shoots The Player - the new game next to Scorsese who's busy working on Last Temptation of Christ - the very last one (we promise).
One thing already looks clear thinking of these impossible post humus sequels: industry can do it - and only industry can do it - artists can't. Also, industry can do this to amusement-movies only - and not to anything that's art. At the same time all our editorial would be more than happy to see Patrick Swayze and Keanu Reeves in a Point Break 2. (but if it turns out bad we'll be more than sorry). It's like kissing again someone whom you used to be in love with - it could do some severe damage too which can't be worth of it.
What Lucasfilm does however seems to be only a very simple tactic of staying on the market (former great director Soderbergh does the same with his fabricated Ocean's series). When we're talking like Lucasfilm - movies are already business and business only. If it was art - Mr. Lucas would probably be happy to let some room over to new film-makers, and new films. However it looks like the very opposite - Lucasfilm teams up with the Spielberg family (meaning Kaminsky) to create a new stuff that could make money at the box office. They together with their joint forces in business terms fight for their great share from the market both US and oversees. They remix Indy and the Encounters of the Third Kind to get their big dough at the box office and they send Sean Connery into heavens twice so that their marketing-based story would work (it was really imprudent of them).
They fight together - against the competitors - that includes young filmmakers, new movies, also art movies, European movies - that's why they even go to Cannes to help their product become predominant over local, European and art movies too. So, is that a nice thing to do? Industry can be really nasty - and this Lucas-Spielberg cartel - two giant companies going undercover as nice film-fellas just visiting in Cannes - are really that too.
Cinema started from the level of spectacles - and erected to the form of telling stories (instead of moments) and quickly became a form of art too beyond being business at its basement. We are definitely not very happy to see that industry and money-people are trying to degrade this fine form of art back to its stone-age level, to the level of showing only spectacles.
Speaking of which cinema now - as turning into digital - offers great opportunity to thousands of filmmakers to create great films, to tell cool stories on very small money which is a threat at the battlefield of business for Lucasfilm, Industrial Light And Magic, Walt Disney, Paramount, Viacom and DreamWorks too. The only way for these huge corporations to fight potential fresh, new and cheap films from the market is to change to motion-picture culture in a way that expensive 3D and CGI spectacles can be predominant attractors at the box office. They just have to make the audience to take to these drugs - and that's what commercials and media and big money are good for.
Isn't that ironic that these big monoliths like Lucasfilm keep staying on the scene without offering new stuff? That they're stopping time so that they could be repeating themselves - and their incomes? They keep staying on the scene blocking many-many new things to come and they even go to Cannes to do this at their bests. Isn't that ironic? Money is just money and should be taken as that - only.
-jepe-